Holiday Gift Guide * Reader's Digest Mind Stretchers, V. 1 & V. 2
? ? ? ? ? ??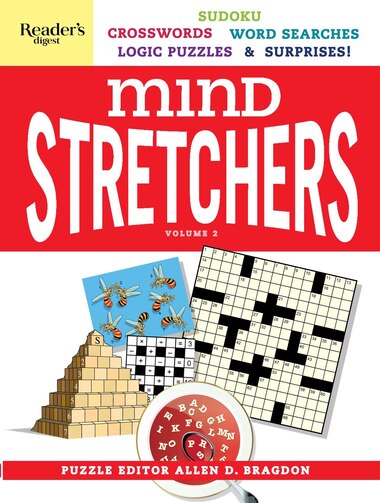 Books: ?Reader's Digest Mind Stretchers, V. 1 & V. 2
Editor: ?Allen D. Bragdon
Illustrator: ?James Brown
Paperback: 192 pages
Publisher: Reader's Digest (2017)
Language: English
ISBN: 9781621453512; 9781621453741
Reading Level: Middle School-Adult
Price: $17.99
Purchase: Online or at local retailers
Electronic games and gaming has its place. ?Me, I personally choose paper–no batteries or power needed other than my mind. What's more is that Reader's Digest Mind Stretchers teases my mind. ?Its sudoku, crosswords, word searches, logic puzzles, trivia, logic and games are perfect for on the go moments while traveling as well as down time when my work is done. ?This book is not just black and white, it's 4-color too (solutions included.
How many people want to find the perfect gift? ?How many people are faced with selecting something for the man/woman who has everything or, worse, wants nothing? ?This book is the solution. ?It's ageless. ?Thinkers, young and old alike, ?enjoy challenges. ? ?What a wrap!
The product(s) featured in this review were provided free of cost to me for the sole purpose of product testing and review. This review has not been monetarily compensated and is based on the views and opinions of my family and/or self. Please note that the opinions reflected in this post have not been influenced by the sponsor in any way.