2010 HOLIDAY GIFT GUIDE – Suzy Goose And The Christmas Star Children's Book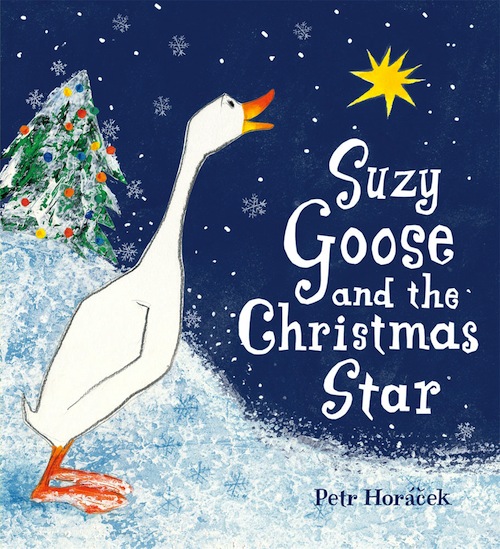 Suzy Goose and the Christmas Star
author/illustrator: Petr Horacek
Suggested retail price (U.S./CAN): $15.99 / $19.00
ISBN-10 – 0763644870
ISBN-13 – 9780763644871
age range: 3 yrs and up
32 pages
grade range: Preschool and up
It?s Christmas Eve, and Suzy Goose and her friends are admiring their beautifully decorated tree. It?s perfect except for one thing: a star for the top. But Suzy sees just the right one, high in the sky, and no one can stop her from trying every possible way to get it! Bold, expressive illustrations follow the charmingly single-minded goose in a new adventure, a tale of seasonal magic found in surprising places. Tenacious Suzy Goose aims to top her Christmas tree with a star from the sky — with unexpectedly wondrous results — in this vibrant, whimsical tale.
Petr Hor?cek is the author-illustrator of LOOK OUT, SUZY GOOSE and SILLY SUZY GOOSE, as well as RUN, MOUSE, RUN!; BIRD, FLY HIGH; A NEW HOUSE FOR MOUSE; and STRAWBERRIES ARE RED. He lives in England.
The product(s) featured in this review was provided free of cost to me for the sole purpose of product testing and review. This review has not been monetarily compensated and is based on the views and opinions of my family and/or self. Please note that the opinions reflected in this post have not been influenced by the sponsor in any way.